Note: see all the photos from the hike I discuss in this post in this post.
When I woke up in Dolly Copp, the rain had stopped and a thick fog was in the area. I decided I would drive into Gorham quickly for some cell service and to check my messages since I expected Ronnie to come and visit sometime in the day. I learned he'd be by later so I decided I'd take a hike in the morning.
The map I picked up at the ranger station showed all the hiking in the presidential ranges. I was looking for something close and relatively short so I could do it in the morning and be back to Dolly Copp by noon. I found a trail called Imp Trail up to Imp Face that was listed as 2.2 miles one-way and 3 hours out and back. It also was close to the camp ground and was listed as "One of the 10 best views in the White Mountains." So I was sold.
It was still foggy and wet when I got to the entrance, first person of the day. When I was hiking up I got soaked. Everything was wet and if I brushed up against vegetation at all, my pants became wetter. But the trail was nice and I just accepted that I would be sweaty and wet in general. Of course, my glasses fogged up constantly as well, as did the camera lens at times.
The trail basically follows a stream for a good portion near the bottom and then gets pretty steep for the rest of the way. There were stream crossings and rock face climbs and at one point, man-made stairs. But it was a very rewarding hike that this out-of-shape dude had to stop and rest often during.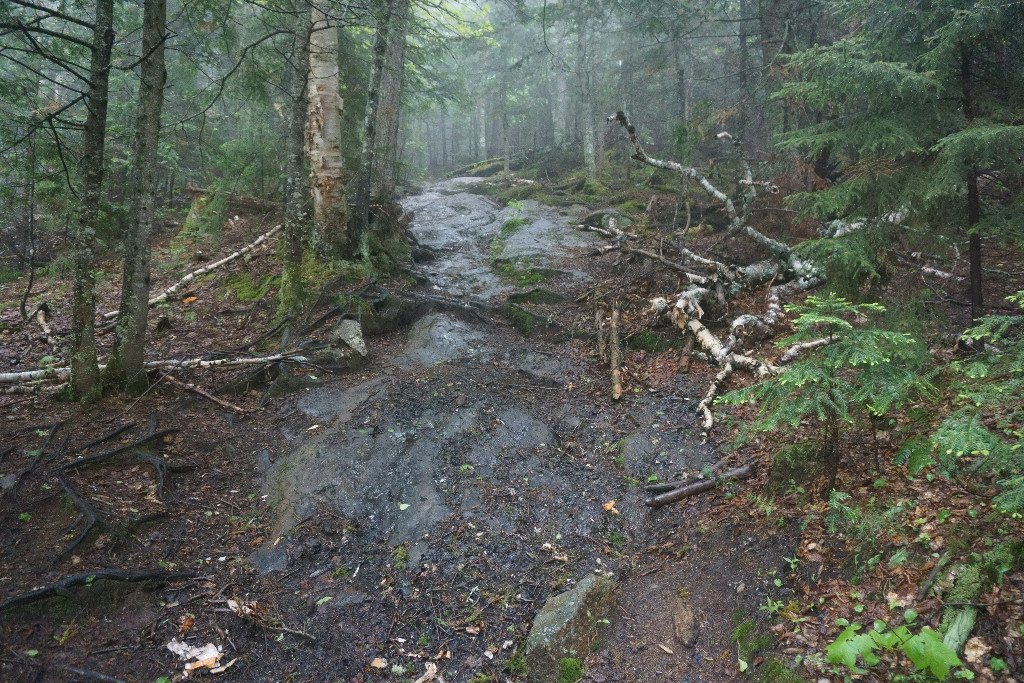 When I made it to the top the fog hadn't yet cleared and that was a bit of a bummer. But even so, it was rewarding. The trail and trees opened up onto an outcrop of rocks and I could feel how open it was. It the view was clear I bet it would have been gorgeous with all of the presidential range visible.
I bummed around the top for awhile and took some shots then made my way back down. On the way back I came across 3 groups of people who I wished each a better view than I had. And later when I was back at the campground, the fog had cleared and I took some photos of the rock outcrop, Imp Face, from the campground. It's pretty clear that the view would be great.
Check out the rest of the photos here.